KEY POLICY OPPORTUNITIES
Energy efficiency is a diverse, ubiquitous, and versatile tool that often presents a clear and cost-effective investment decision. However, its diversity often leads to challenges in its implementation, and today's energy efficiency investments – while significant – still fall well below their potential. There are also worrying signs that energy efficiency investment is slowing in some areas, even while the reasons to accelerate its use – economic competitiveness, jobs, emissions reductions, public health, equity – are growing in urgency.
Consistent, well-designed policies are critical to ensure that markets drive energy efficiency forward across all sectors. Currently, we are reaping the benefits of decades of commitment to energy efficiency; however, accelerating energy efficiency requires a proactive and evolving strategy.
Primary Energy Efficiency Policies, 1970-2018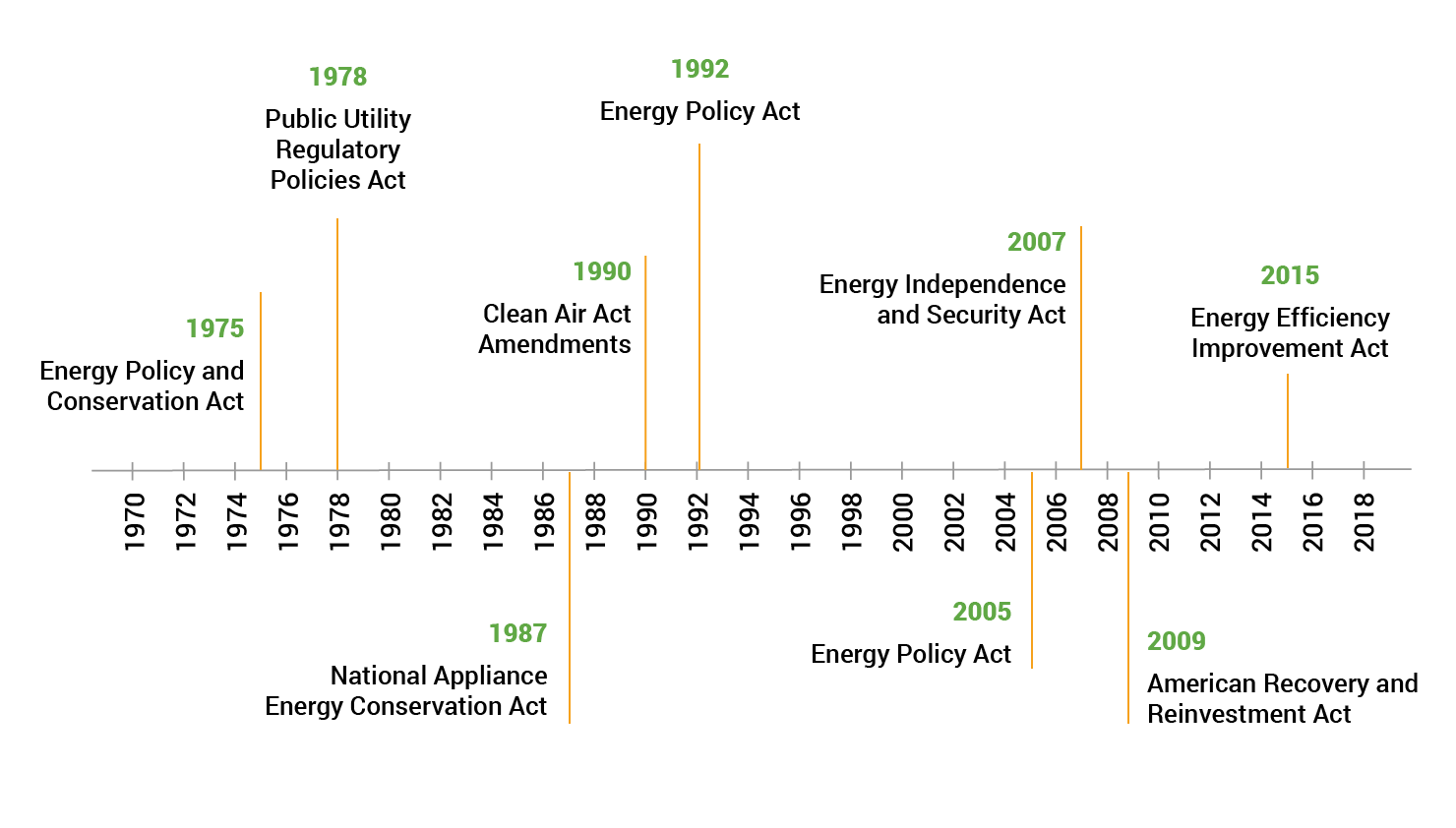 The U.S. policymaker has an extensive toolkit to promote energy efficiency across national, state, and local levels. Reflecting the distributed nature of energy efficiency, there is also not one "single bullet" policy to incentivize it; instead, the "silver buckshot" method has proven highly effective. This diverse toolkit includes opportunities such as:
Market-Based Mechanisms

Consider cost-effectiveness of assets through lifecycle assessments, including operation and maintenance, as well as the non-energy benefits

Develop and improve financing tools for energy efficiency, including PACE and ESPCs

Strengthen the accountability and market value of energy efficiency by strengthening existing voluntary market certification tools and labeling (e.g. ENERGY STAR, LEED) and industry-wide energy efficiency voluntary agreements

Establish market incentives for energy efficiency (e.g. tax incentives, rebate programs, or broader tools such as carbon pricing)

Set Policy Prioritizing Efficiency

Recognize and consider the benefits of energy efficiency beyond energy savings, including benefits to the broader economy, job growth, U.S. international competitiveness, public health, and climate and particulate emissions impacts

Establish clear top-line prioritization of energy efficiency through energy efficiency strategies and planning

Support utility energy efficiency programs and concrete targets for energy efficiency, such as EERS

Regulatory Levers

Continually strengthen energy-efficient building codes and appliance/equipment standards (e.g. refrigeration, air conditioning, lighting), one of the most cost-effective ways to ensure cost-effective energy efficiency is built-in from the beginning

Continually strengthen transportation fuel economy standards to drive innovation and energy efficiency gains in key sectors (examples: CAFE standards, marine and aviation fuel economy standards)

Establish policies to correct market disincentives to energy efficiency, such as decoupling, LRAM

Technology & Data Enablers

Invest in rigorous research, development, and demonstration, to maintain a competitive pipeline of innovation

Develop and maintain up-to-date and accurate public data, statistics, and analysis to enable effective tracking of energy efficiency trends and effectiveness

Support market development of energy efficiency enablers such as AMI and other grid modernization technologies

Support System Approaches

Explore system-wide and time-dependent opportunities to enhance efficiency, leveraging fast-moving combinations of IoT, connectivity, and IT innovations to identify and pursue new levels of energy savings

Explore opportunities to invest in energy efficiency and demand response as utility system resources, supported by decoupling and shareholder incentives

Consider options to stimulate behaviors that support greater sector-wide energy-efficiency, such as programs and smart technologies to encourage demand response participation, and by increasing occupancy levels in transportation vehicles
Where We Go From Here
It is clear from the 54 indicators described above that energy efficiency has made its mark on the U.S. energy economy. It has had transformational impact on society that has been executed over decades in large part due to its pragmatism, cost-effectiveness, bipartisan support, and the ability to leverage small and beneficial advances over an immense scale.
Energy productivity has more than doubled since 1980. Energy intensity across residential and commercial energy use has improved significantly, offsetting increases in population, average building size, and energy-consuming devices, resulting in remarkably flat demand growth. Energy efficiency has saved billions in energy expenditures by families and businesses, but it has also done much more: created millions of jobs, reduced climate emissions, enhanced public health, improved comfort and commercial productivity, and it continues to address the inequality in the financial burden of energy costs.
Energy efficiency programs have been repeatedly shown to be highly cost-effective, marking energy efficiency as one of the most affordable resources for utilities. The policy environment is critical; from EERS and decoupling to federal, state, and local standards, each of these tools has been a critical enabler of energy efficiency deployment. Investment in energy efficiency is growing in some areas (such as smart metering), but it is stagnating in others (R-PACE investments). Energy-efficient lighting has been a notable success, with a market for LEDs that went from an emerging technology to dominant deployment in less than a decade. Building technologies are also getting smarter, with greater deployments of smart meters, smart thermostats, and building energy management systems that can communicate – not only within the building, but beyond buildings as well. Industrial processes are now more efficient with substantial further gains possible if companies embrace strategic energy management, smart manufacturing, and emerging process technologies. Transportation has seen exceptional outcomes over the past decade resulting from strengthening fuel economy standards, and electric vehicles and new methods to optimize transportation systems overall are emerging.
However, there are also warning signs that these trends, based on years of sustained political commitment, are beginning to waver in some areas.
In 2018, energy productivity did not grow year-on-year, and unusually, this setback occurred in a year of impressive economic growth. Overall energy efficiency investment in the U.S. fell by 18% from 2016 to 2018. Energy intensity improvements in the building sector have not been sufficient to prevent buildings from consuming increasing levels of energy overall, due to the growth in the number of buildings developed and the difficulty of retrofitting the existing building stock; and the growth in vehicle miles traveled threatens to overtake advances in fuel economy.
In recent years, some policymakers have worked to roll back key energy efficiency programs, including lighting standards and fuel economy standards. There have also been proposals to make drastic cuts to RD&D and popular programs such as ENERGY STAR®, suggesting their benefits are not fully recognized by all. In some places, states and local governments have taken a strong leadership role where federal policy has stalled.
However, to move forward as a nation, strong and consistent support for the continued growth of energy efficiency is critical. We must raise our ambitions to support energy efficiency – advancing on tried-and-true policies that unlock private capital, drive innovation, and ensure energy efficiency is accessible for all.
But it also requires that we prepare for energy efficiency's future.
With the deployment and development of connected devices that allow for greater integration and automation of energy efficiency, new efficiency gains at higher levels of complexity are becoming increasingly possible; perhaps inevitable. But to take advantage of these evolving opportunities and align them to provide the U.S. with maximum benefit, we must consider energy efficiency as the foundation of our path forward, and leverage its massive scale and versatility to prepare for tomorrow's challenges.